What you need to know about our salary guide
Covid-19 : what impact on recruitments and salaries ?
Which sector were mostly affected ?
What are the most wanted profiles?
What are the new candidates expectations ?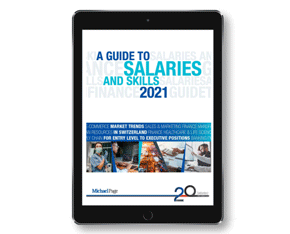 Our latest salary study gives you all the insights you need to understand the impact of the sanitary crisis on the market and how to better position your company when it comes to employees' remuneration :
10 sectors thoroughly analyzed
Over 370 positions listed
Salary grids based on years of experience from entry level to executive positions and/or per industry.
Overview of the most wanted profiles per sector in 2021
The general market trends and the impact of Covid-19 on recruitments.