Determined to learn
Developing our people is a key pillar of our culture at PageGroup and is critical to the success of our business.  That's why we take it seriously. PageGroup offers a clear and transparent career journey and provides the support and development needed for people to reach their potential.  Through a market leading, blended learning approach our employees can learn through a variety of materials including video, infographics, interactive e-learning, gamification and, virtual and physical classroom sessions. 
From the moment our people join us, whatever their level of experience, there's a clear development pathway all the way to the top, starting with our global on-boarding programme which brings new starters quickly up to speed on who we are, what we do, our values and how best to grow their business. 
For our operations teams, there are consultant development programmes to guide and give people the mind-set, skill-set and recruitment tool-set they need to succeed.  Career journeys and progress at PageGroup across operations, support and group services functions are supported by management development programmes reinforcing the vision, purpose and values which underpin our strong Page culture.   
As people advance through their career, we encourage greater self-awareness through personal development plans including 360° Feedback.   
Our annual talent review of senior leaders identifies high potential employees for accelerated development.  As participants in the Global Director Academy (GDA), directors focus on creating and sustaining a culture of inclusion and are equipped with the development and networking tools they need as the future leaders of our organisation.    
Our senior leaders are supported by external executive coaching programmes created to support our leadership and talent strategy and aligned to our 'PageGroup Potential' model. The coaching programmes allow for greater self-awareness, supporting personal development goals while working in a leadership position.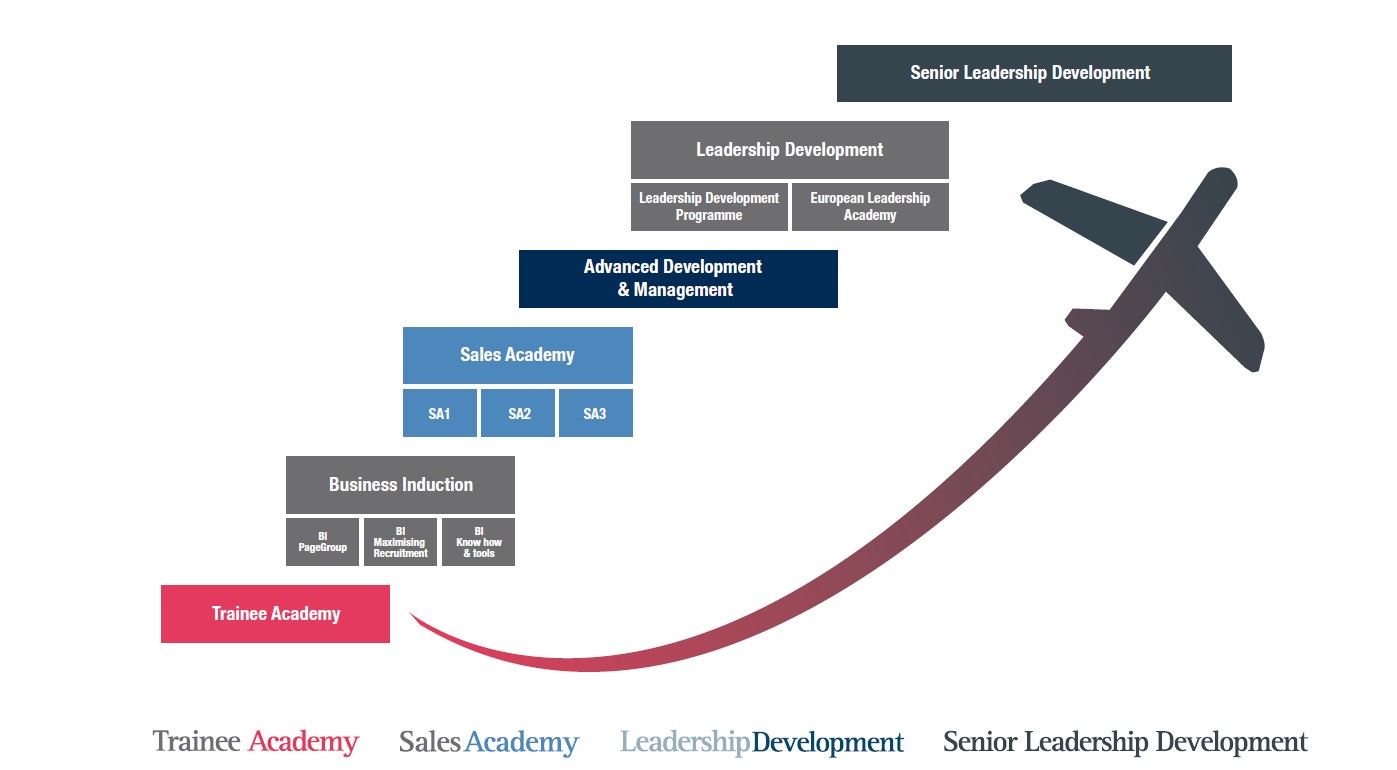 ---
Trainee Academy
The Trainee Academy's purpose is to put a training and development plan in place and thus increase future potential at PageGroup thanks to a strong trainee team. We aim to have well-trained young talents who will have greater chances for long-term success. During the 6-month duration of our programme the trainees have a proper period of time in which they develop their skills and gain a detailed insight into the job.
The trainee programme is specially designed for young professionals who are considering a career in the recruitment business. It prepares graduates comprehensibly for the challenges they will face in the everyday life of a consultant in the PageGroup.
Click here for more information
---
Business Induction
In our business induction you will develop the knowledge and skills to become a successful Recruitment Consultant at PageGroup. It consists of different modules that you will complete over your first months at PageGroup. It is based on three cores:
All about our company, our history, brands, division, culture, values and strategy
Your recruitment and sales skills including methods, effective process management and relationship building with candidates and clients throughout the whole recruitment process
Know how and tools - everything you need to master your job effectively
During the first months at PageGroup, you will have a lot of induction training in the form of classroom training, group sessions, e-learning and one-to-one time with your manager.
---
Sales Academy
Sales Academy 1
After four weeks in your role with on-the-job training and business induction training, Sales Academy One focuses on mastering the art of selling and developing the right mindset. It is designed to help you excel in the current sales climate and to develop your own client base.
Sales Academy 2
Six months later, Sales Academy Two builds on the skills and techniques already learned, including creating opportunities with clients, developing powerful questioning skills, and delving deeper into the psychology of sales. This toolkit helps build loyal relationships with clients, generate business opportunities and maximise the sales pipeline.
Sales Academy 3
Two years into the sales consultant journey there will be an invitation to attend Sales Academy Three.  It's what makes our most successful consultants even more successful. The first rule of Sales Academy Three is - we don't talk about Sales Academy Three!
---
Management Trainings
Managing, leading and coaching others is key to the success of our people and our business.  Our modular management programme is designed to develop and fine-tune the key skills of managing yourself, leading others and leading the business:
MDP 1 – Starts with our new managers, giving an insight into the manager's role and helping the transition to team responsibility. The course covers a range of topics including understanding the scope of the manager role, how to build a business, driving performance, basic coaching skills and time management.
MDP 2 – After having gained the first managment experience the second module includes sourcing and hiring potential recruitment consultants, how to conduct effective reviews and appraisals, setting a vision to engender high levels of engagement, and understanding the importance of diversity and inclusion.
MDP 3 – Designed specifically for managers with over two years of management experience, this course further develops and challenges existing skills, looking at different approaches. It studies how to grow existing markets and develop new ones, along with people challenges such as identifying and understanding individual motivators and helping to overcome performance plateaus.
Train the Trainer – This training is designed for employees who give internal trainings. It provides the skills and tools they need to deliver effect training sessions and inspire their delegates.
---
Leadership Development
Leadership Development Program
Our experienced managers complete our Leadership Development Programme. The delegates will develop a vision of what it means to be a great leader and a renewed desire to get there. They will learn practical leadership skills and tools and develop an action plan.
Leadership Academy
Our senior management will be nominated to attend the Leadership Academy. They will benefit from a comprehensive workshop and best practice sharing with colleagues from all over Europe.
Senior Leadership Development
We also support our top management to grow in their roles. In our global directors academy, directors from all over the world will work on their leadership skill and their business strategy. For our managing directors we cooperate with different business schools to offer outstanding external training.
---
Expert Trainings
We offer different trainings and tailored programmes for our employees working in our support services. The aim is to develop the competencies they need to be successful in their everyday work. Topics include e.g. project management, stakeholder management or customer engagement.
---
Ongoing Training
On the job training
Our philosophy at PageGroup is to combine organised class room training with intensive learning on-the-job. Throughout your develop an experienced employee, usually your manager, but also other colleagues, will support you with many on-the-job trainings.  
---
Competency Development
Performance appraisal
Every 6 months you will have an appraisal meeting with your manager. You will discuss your strengths and identify your areas of development. You will review your goals and set new ones and you will create your personal development plan for the next few months. Combined with regular feedbacks, this will facilitate an open conversation to build your future at PageGroup.
360° Feedback & Coaching for Management and Leadership
A 360° perspective offers our managers and directors feedback from different sources including their own team, colleagues or their own manager. To make the most out of it, different coaching sessions will follow with the HR & Talent Development team as well as with their own manager. This will help to use this valuable feedback to create a targeted action plan. The aim is to effectively support our Managers and Leaders in developing their competencies and progress in their careers.