Zurich, 23 February 2017. According to the Michael Page Swiss Job Index, year-on-year growth (February 2016 – February 2017) in advertised job vacancies amounted to +32.5% - the highest recorded growth for this period since the Index began in 2012. Between January and February 2017 advertised job vacancies increased by +7.0% in the Suisse Romande, by +4.5% in the German speaking region and by 4.9% across Switzerland.
"We're seeing a strong start to the year", said Nicolai Mikkelsen, Director, Michael Page, "Demand is highest in export-related industries such as pharma and logistics, business administration related to the post-holiday commencement of the business year and project management – especially in the financial services, IT and construction industries".
High Demand for Logistics Specialists and Financial Controllers
Job categories – showing the highest monthly growth (January - February 2017) were:
| | | |
| --- | --- | --- |
|   |  Winners: Job categories January - February 2017 |   |
|  1. |  Logistics and Inventory Planning |  + 14,1% |
|  2. |  Financial Control |  + 11,5% |
|  3. |  Information Technology, IT Support, Security and Administration |  + 9,6% |
|  4. |  Pharmaceutical Specialists |  + 7,1% |
|  5. |  Project Management |  + 6,2% |
|  6. |  Business Management |  + 6,0% |
The Lake Geneva region exhibited the highest rates of growth in advertised job vacancies. According to Charles Franier, Executive Director, Michael Page, "This is largely driven by companies boosting their sales teams to ensure that they maximize their annual ROI and recruitment for major projects which were delayed in the second half of last year".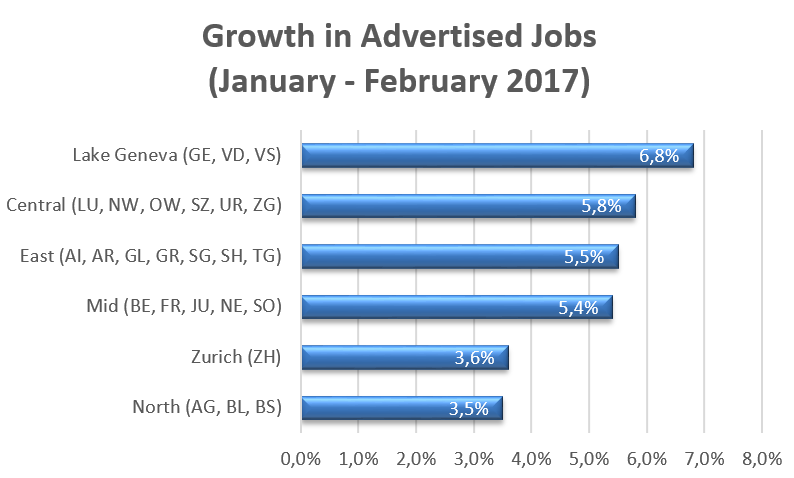 Michael Page
Michael Page is a leading brand of the PageGroup, one of the world's pre-eminent professional recruitment consultancies. Listed on the London Stock Exchange ("PAGE"), PageGroup was established in Switzerland in 2001. The Michael Page team works closely with its clients to identify and place the best candidates for management positions. It also collaborates with PageGroup's other operational brands to ensure that all client needs are met. This includes Page Personnel (graduates and first level specialists), and Page Executive (senior and executive management). Page Group has more than 152 offices worldwide including three Swiss offices in Zurich, Geneva and Lausanne.
Michael Page Swiss Job Index
The Michael Page Swiss Job Index measures the number of advertised vacancies on company sites throughout Switzerland. Introduced in January 2012, the Swiss Job Index provides a unique, comprehensive overview of the Swiss labor market and the most important monthly trends.